Pretty Rhythm Rainbow Live Wiki
Comments

0
466pages on
this wiki
Introduction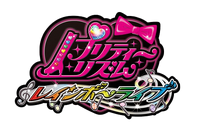 Welcome to the Pretty Rhythm Rainbow Live Wiki!
Naru Ayase is an 8th grader who can see the colors of music when she listens to it. For Naru, who is extremely good at deco-ing Prism Stones, becoming the owner of a shop like Dear Crown was her dream. One day, she finds out that the manager of a newly-opened shop is recruiting middle school girls who can do Prism Dance, and immediately applies. Naru begins to Prism Dance at the audition, and an aura she's never experienced spreads out in front of her. At that moment, a mysterious girl named Rinne asks her if she can see "rainbow music".
Please help us by editing or by creating pages!
The database currently contains 466 articles and 3,593 images.

Overview
·
Help
·
Templates
·
Categories
·
Admins
Meet the Characters of Rainbow Live
Featured Article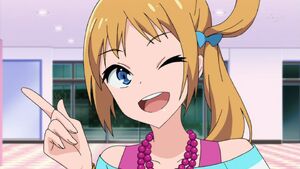 Ann Fukuhara
Ann Fukuhara (福原 あん, Fukuhara An) is the captain of the Prism Dance club at her school. She is the eldest daughter of a senbei shop but prefers making sweets instead leading to everyday fights with her father. Demonstrating many leadership abilities, she is considered an ally of justice to many of her schoolmates especially Naru. For work experience, Ann is against working at her family's senbei shop because it's already an everyday thing for her. Though demonstrating an ability to make senbei, she is equally good at making sweets and prefers to find work as a pâtissière. Ann is offered work at Prism Stone after being led by Poppun into the building where Naru had trouble making sweets for the shop. She is accepted by the owner as her sweets and performance were both fine keeping it as a secret from her family, but for the first time, Ann performs Prism Live. Not long after, Ann brings Naru and Ito along with her into the world of competitions after meeting a new rival: Wakana. The three then formed a unit called Happy Rain.
The Pretty Rhythm Rainbow Live Wikia will try to put up new polls every week, please feel free to vote! To see the results of previous polls, click here.
Vote on the Featured Poll
Which is your favorite guy character?
Give us your opinion
How did you find out about Pretty Rhythm?
If you have a suggestion, please leave a message on my wall! (User:Purizumu)